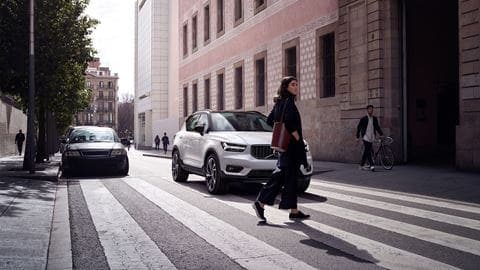 With summer in full swing, the family road trips should be in full swing, as well. And as they get underway, Volvo Cars Seattle wants to make sure that those who are embarking on these trips end up getting there as safely as possible. The wide variety of new Volvo cars at our dealership are designed to do just that, in addition to providing a luxurious and performance-oriented drive.
When you're on the way, the reckless driver is a problem that's all too common, and it's important to know what to do when you encounter one. Whatever their reason for driving so, it's important for you to react defensively – slow down, give them a wide berth, and try to let them pass without becoming an obstruction to traffic yourself.
But if the driver ends up, say, hitting the brakes suddenly, advanced safety features included in IntelliSafe Assist, like Adaptive Cruise Control and Distance Alert, provide emergency braking and audible and visual warnings of obstacles that get in the way to help you avoid a collision. These features are standard on all new Volvo models, so you can rest assured your Volvo vehicle is helping you and your passengers stay safe.
When it gets wet, roads can be surprisingly dangerous. Rain can mix with oils and other vehicle detritus, especially when the rain starts, and produce a difficult patch of terrain to traverse. Slowing down and making sure you're taking it slow is always a smart move, but getting a Volvo SUV like the 2019 Volvo XC90 with all-wheel-drive will make sure that your wheels are getting the proper amount of traction to keep your grip on the road as firm as possible.
Remember, before you head out, make sure to stop into our Seattle, WA Volvo service center to make sure your vehicle is in top shape for the drive. Have fun!