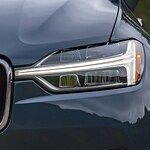 Due to their size and capacity, SUVs are hot on the Seattle market right now. The Volvo XC60 is one of the most popular SUV options, because it offers luxurious interior amenities and quality materials in a conventional SUV layout. Seattle consumers love that SUV design doesn't have to be boring in the Volvo XC60.
Trim levels matter, especially when it comes to interior detail facets. The highest trim level available for the Volvo XC60 is the Polestar Engineered, which uses contoured seats, aluminum interior decor and gold seat belts to generate a sporty feel inside and out. Supportive seats that are covered in Nappa leather and open grid textile upholstery set the scene for elegance.
The overall interior comfort of the Volvo XC60 is like that of no other luxury SUV. Contoured seats, easy to use navigation and stunning accents create an overall experience in this SUV's interior. Contact Volvo Cars Seattle to see it in person, and take one on a test drive.